Urban Green'House' Project (2010-12)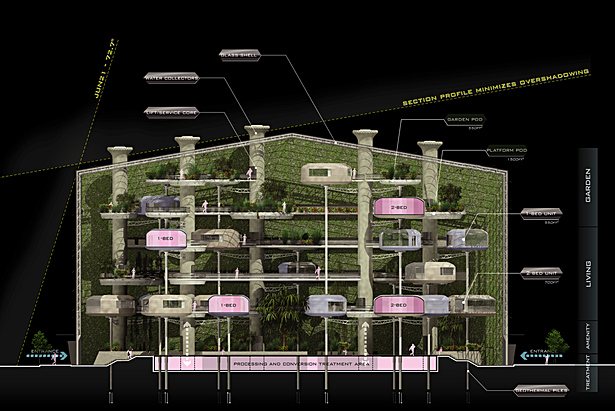 The Urban Green-'House' Project uses New York as the example for a new urban typology that integrates housing with the space where we grow food - an enclosed glass vessel, with its own self-sustaining climate, that sees food and man cohabit together in communal symbiosis: an urban green-'house'. The site, establishing a template for the urban green-house project, is positioned in Manhattan along the gridded streets of midtown. Located at the intersection of 'anystreet' and 'any-avenue' on an 80'x225' plot, the architectural solution is adaptable to suit many sites across new york and other cities. Although the project integrates into the urban environment and lends itself to connectivity and unification, the project itself is also designed to be self-sufficient in the event of urban decay or collapse. It is integrated into the urban context, but not dependent on context except context that lies beyond our human boundaries.
The Urban Green-House Project was a top-selected entry into the 2011 Natural Systems competition held by d3. It was exhibited as part of the 'Natural Systems - Origins' show at M3 gallery in New York City from May 9th-June 3rd 2012. This project will also be published in the upcoming book with the same name during the summer of 2012.
Status: Competition Entry
Location: New York, NY, US